Fat Paul presents:
The Herb Garden
+ Milo's Planes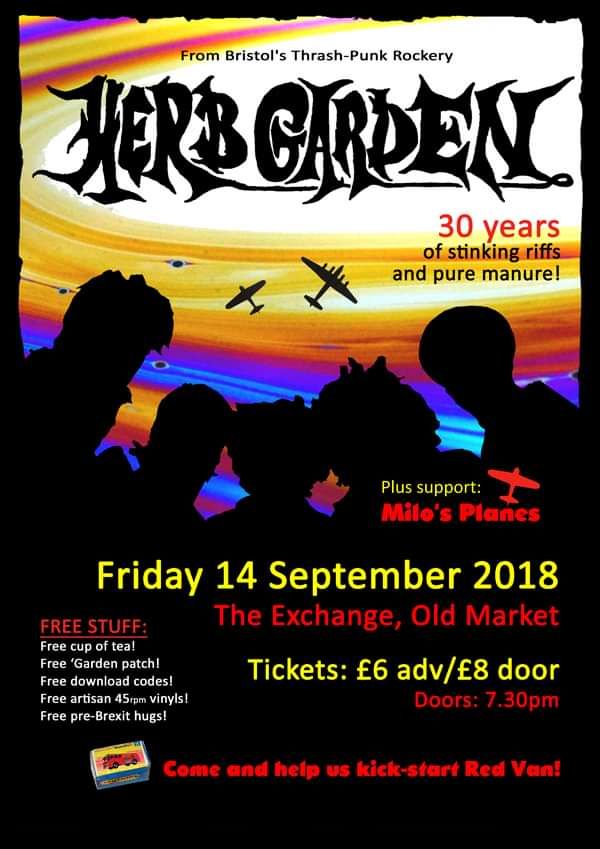 Don't miss this rare show! Emerging from deep in Bristol's thrash-punk rockery, tonight the Herbs celebrate 30 years since their first forays into the riff pits of the late '80s hardcore-punk scene. And you're invited. But they weren't really hardcore right? You were in a blue funk. You had a psychedelic flashback.
Who can forget the chorus of Bulldozer Jones, the twin guitar riffing of Shit On Me, the purple daze of Convicted Man, or the intense drum battery of Ice Cream Man? These chaps, that's who! But fear not - they've got their heads together, printed the words out, pumped some iron, and learned the songs!
Famous for 'not being very famous', their excellent European rock-tours, and for Carl giving birth to a garden gnome live onstage (by Caesarean), the lads had a five-minute flirtation with rock stardom when their crunchy Warner Bros album Destructive Natural Agent fell slightly short of the Top 100. Staunchly independent ever after (they split up), this once-in-a-Keith-Moon appearance by our 'mad Muppets on raver-fuel' guarantees to muck out your mojo, thump you in the gizzard, then kiss your mind.
So come and help Carl, Dave, Ben, Rat, Phil, and conga Martin, kick-start the band's Red Van! Expect free tea, 'Garden patches, artisan vinyls, download codes for the remasters, and … politely British anti-Brexit hugs!
The show is aided and abetted by the fine and dandy Milo's Planes whose post-hardcore, guitar-driven caper grasps the older generation's punk baton and tells you in no uncertain terms where to shove it!
Music. https://uncontrolledborders.bandcamp.com/ Facebook. https://www.facebook.com/herbgardenUK YouTube. https://www.youtube.com/user/rawriff
Flickr. http://www.flickr.com/photos/herbgardenband
Line Up
The Herb Garden
A 3 piece DIY Punk band from Bristol made up of friends & brothers, influened by loud guitars, fuzz pedals, shouting, Wire, Fugazi, raw & impassioned post hardcore, garage punk & slacker indie rock.
Watch music video for new single here:
Contact: milosplanes@hotmaill.co.uk Facebook.com/MilosPlanes soundcloud.com/milos-planes milosplanes.bandcamp.com
"A band who are fast, furious and who ooze passion and drive. A band who evoke memories of all your favourite bands and who surprise you with punchy, urgent melodies when you're least expecting to find them. And a band who are more than the sum of their parts, with busy songs chock full of ideas.
And most importantly we're left with a band who now have their own sound and identity and who don't deserve to be described by referencing other bands anymore." - LOUDER THAN WAR
View Profile