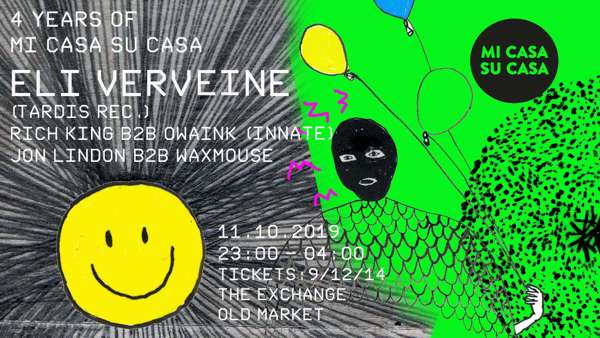 To Celebrate 4 years of Mi Casa Su Casa and doing what we love....Throwing parties we have booked one serious party starter! eli verveine has been on our radar for some time and a birthday bash is the perfect time to introduce her to the Bristol and MCSC dance floor. A seriously respected DJ and renowned for her ability to find that party groove with her deep house and techno flavour. This one is gonna go off!!
For this 4 year landmark we will be hosting our celebrations in a brand new location for Mi Casa Su Casa in the very fitting venue, The Exchange Bristol. It has an amazing sound system and has recently been refurbed and upgraded. The Exchange is a community owned venue and fits the Mi Casa ethos on so many levels and we cant wait to add our special birthday touches and get the place pumping!!
Birthday b2b's will support our special guest as each of our residents is joined by a DJ who has been heavily involved in this project from the beginning and these sets are gonna be very special!
Eli Verveine
RICH KING (MSCS) b2b OWAIN K (INNATE)
JON LINDON (MCSC) b2b WAXMOUSE (SUPERSMASH)