Never the Bride
+ Mad Apple Circus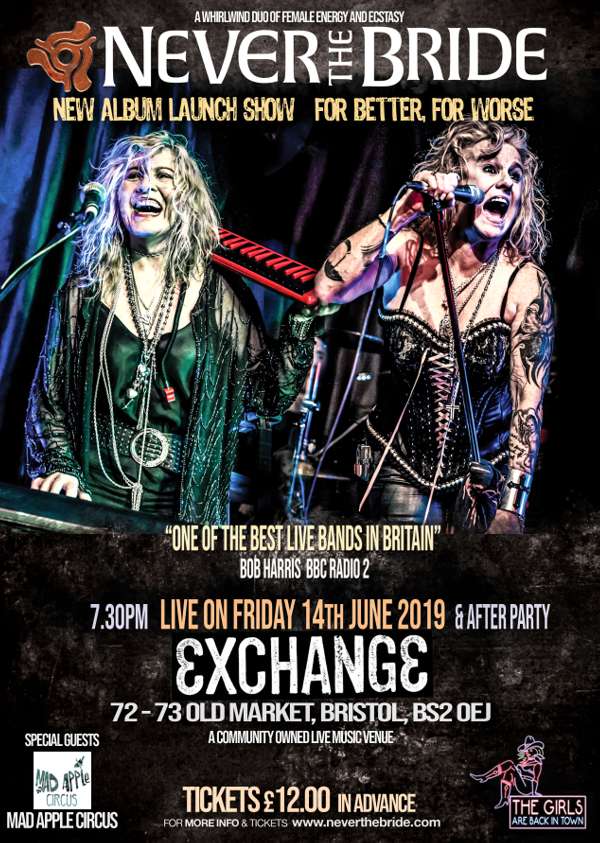 NTB will be performing the songs from the recently released Album "For Better For Worse"
The Album will be available on Limited Edition Double Vinyl an CD.
Critically acclaimed, yet still one of "Music's Best Kept Secrets" Never The Bride announce the release of their ninth album, For Better For Worse – their first studio album in four years. Featuring 13 new and original tracks, singer Nikki Lamborn describes the work as, "Some of the best we have ever done – we can't wait to get out and play it live. We love LIVE!" This whirlwind duo of female energy and ecstasy made up of powerhouse vocalist Nikki Lamborn and keys, vocals and guitar maestro Catherine 'Been' Feeney, are widely recognised as the First Ladies of Live, playing to sell-out crowds across the country for the past 25 years. They have played alongside The Who at Wembley, Elton John at The Royal Albert Hall, written for and produced Shirley Bassey's Get The Party Started album. Bristol born Nikki and Glaswegian Been met onstage in London many years ago and thanks to their mutual love of music, are inseparable to this day. So much has gone on through the years and they're still together, and now For Better For Worse reflects that true partnership.
ABOUT THE ALBUM Produced by Livingstone Brown, For Better For Worse was recorded at State Of The Ark studios, London, chosen for its incredible vintage gear and beautiful Steinway piano, featured throughout the album. Engineer Hans-Martin Buff, chief engineer with Prince at Paisley Park, was knocked out by the equipment, and studio owner Terry Britten who's written for Tina Turner amongst many many others, dropped in on sessions offering the use of his incredible collection of vintage guitars.    Never The Bride say: "The majority of the material on the album was written before we sought out our producer. He listened and chose what he thought was right, but he said he wanted more from us. He asked us to get back to writing – and get out of our comfort zone. He wanted this to be different from anything  we had done before, so we took on his challenge. Within two weeks, we'd written five brand-new songs, all of which you can now hear on this album. "We're deeply inspired by so many artists. We gotta whole lotta soul, with elements of gospel, the blues, rock and country with a good shot of Americana thrown in – pretty much all the genres of music we love come through in our writing. It's truly a beautiful thing when you write a song one day that wasn't in the world the day before." Lauded as one of the best live bands working today, Never The Bride will be playing dates across the country in 2019. Visit  www.neverthebride.com  for more details.
TRACK LISTING
Love Finds the Young and Old 
Web of a Stranger
For Better For Worse
Don't Trudge Mud in The House of Love
Worth It Work It 
Mind How You Go
Tiger Bay
April Rain
You're Not Alone
I Got a Calling
Your Independence Day
The Girls are Back in Town 
Don't Let the Rain Fall Down
With Mad Apple Circus - http://www.madapplecircus.com/
Line Up
Never the Bride
Mad Apple Circus