Punka and Grrrl Crush presents:
International Women's Day Extravaganza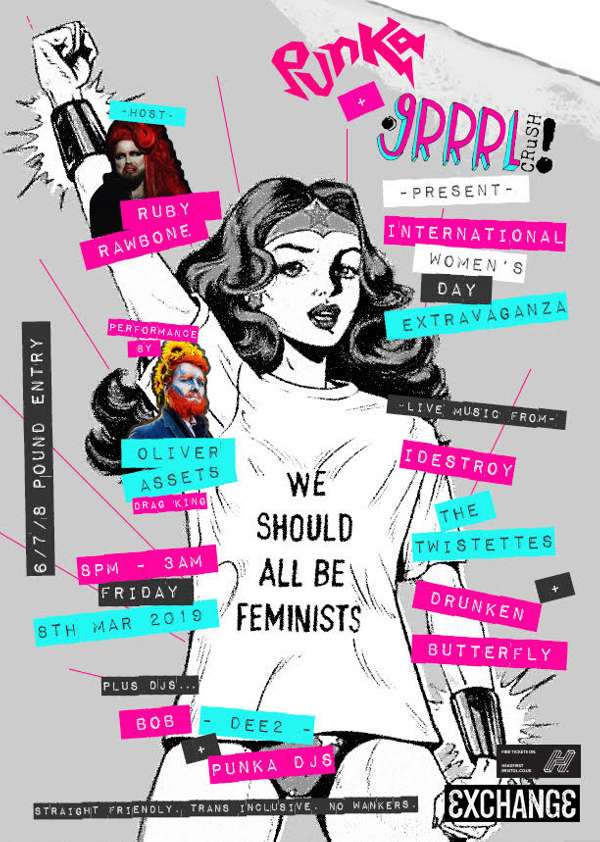 BUNDLE TICKETS NOW ON SALE!!
Grab a bundle ticket for entry to:
08/03 - International Women's Day Extravaganza

09/03 (matinee) - Screening of 'So, Which Band is Your Boyfriend In?'

09/03 (evening) - Eat Up
Join us in a celebration of bad ass wimmin across the globe with the party to end all parties - championing womxn of all shapes and sizes with a killer line-up of live music, drag, DJs and much more. Drum roll please as Punka and Grrrl Crush present an INTERNATIONAL WOMEN'S DAY EXTRAVAGANZA!
-LIVE MUSIC-
IDestroy - a trio of badass grrrls gritting their teeth and showing the world how much Bristol rocks.
All the way from Glasgow, The Twistettes are a rawkus punk duo who are gonna blow your socks off - in fact you might find your whole sock drawer is half way to Mexico when you wake up the next day.
Bristol's very own trio of fierce grunge kweens Drunken Butterfly have been tearing up stages across the UK and rightfully supported the mighty Dream Wife last year. We also have a very special DJ set from lead singer Darcie Doll (DEE2).
-DRAG KING-
Oliver Assets is the 'reluctantly sexy' but always deadpan Drag King who runs the infamous Brizzle Bois collective. Oliver always brings an incredible standard of performance drag for every occasion so we are excited to see what he has in store for our extravaganza!
-DRAG QUEEN HOST-
The punk demon of Drag and Punka gigs host Ruby Rawbone will be serving up all of these acts (with a pint in hand) before throwing off her heels for a good old knees up to our DJ sets!
-DJs-
Some Chick Called BOB (head honcho of Grrrl Crush) will be on the ones and twos busting out full pelt bangers until all you can think about is throwing shapes that haven't been seen since the 90s and you can't feel feelings except unadulterated nostalgia.
DEE2 is a Bristol DJ who can fill any dancefloor and has DJs at Hush, Pride and Punka! Darcie is part of the team who run the club night Bad Reputation.
Punka DJs run Bristol's LGBTQ+ indie/rock club night so expect a set full of indie, electro and Riot Grrrl bangers from Riot Paula!
FRIDAY 8TH MARCH
@ THE EXCHANGE, BRISTOL
https://www.facebook.com/exchangebristol/
8pm-3am
£6/7/8 entry
Tickets available at Headfirst Bristol
Straight friendly. Trans inclusive. No wankers.
Proceeds from the night will go towards Mind in order to raise awareness for mental health support both amongst women and within the LGBT+ community.
Women of the world, we salute you. #IWD2019
Line Up
International Women's Day Extravaganza