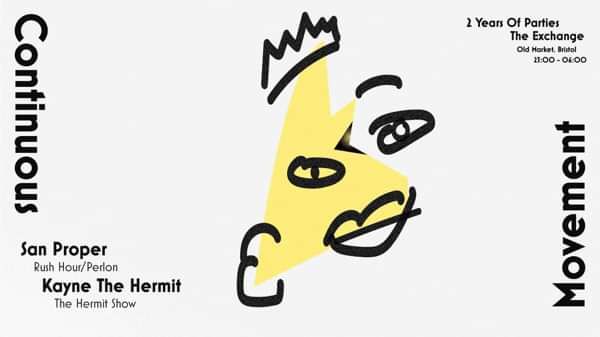 Two years of Continuous Movement
It's our birthday and our first party at our new home. Were goanna be pulling out all the stocks for this one; expect to see The Exchange like never before.
===============================
San Proper (Rush Hour/ Perlon)
There's no one else quite like San Proper. He's a true original of the Amsterdam scene with close ties to Rush Hour, Dekmantel and Perlon. His unique charismatic persona is displayed within his DJ sets making them famously unpredictable.
===============================
Kayne The Hermit (The Hermit Show)
Rising star in UK and dedicated digger, Kayne's the man behind the killer 'The Hermit Show' a radio show he's took across many great stations such as Noods, Redlight and Le Mellotron with a selection of quality guest.
===============================
Visual experiments by Lewis Bradley Muir & Phoebe Hudson, Graphics By Eliott Herbert Byrnes