The Fleece presents:
Supersonic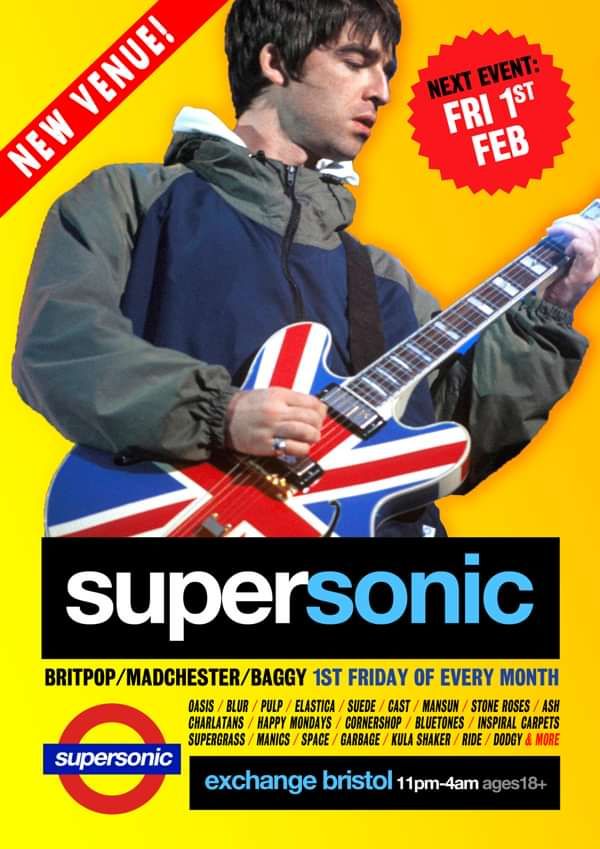 TICKETS: £5 each or 4 for £15 (group booking)
Supersonic returns in 2019 at it's brand new home the EXCHANGE. We are throwing a massive launch party on Friday 1st February and then we'll be here on the FIRST FRIDAY of every month. We'll be playing all the usual Britpop / Baggy/ Madchester classics.
Expect to hear:
Oasis, Blur, Pulp, Elastica, Suede, The Stone Roses, The Verve, Cast, Dodgy, Space, Kula Shaker, Marion, Gene, Sleeper, Ash, Echobelly, Happy Mondays, Inspiral Carpets, The Farm, The Wannadies, Ocean Colour Scene, Mansun, Divine Comedy, Salad, Charlatans, Lush, Longpigs, Shed Seven, Super Furries, Bluetones, Kenickie, Supergrass, Manics, Teenage Fanclub, Placebo, McAlmont & Butler, Republica, Menswe@r, The Lightning Seeds, Ride, Saint Etienne, Geneva, etc.