Exchange presents:
Save Exchange - Community Share Offer Launch
+ HEXIT + John Paul + Dogeyed (Solo) + Tim Rowing-Parker + DJ Fat Paul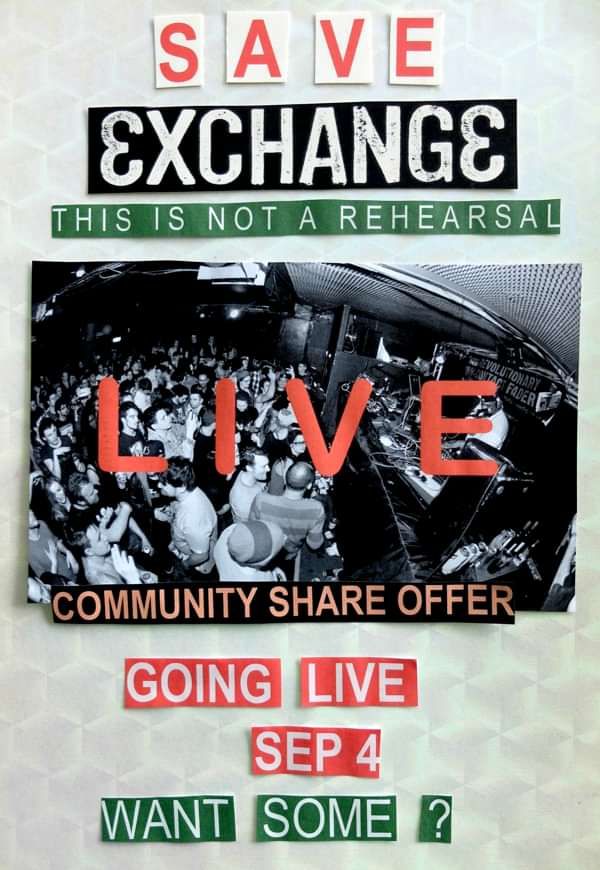 'Save Exchange' Community Share Offer Launch (Click link to pledge)
Q&A with Directors: 7.30pm - 8.30pm
Like many live music venues, we are struggling against the tide. That's why we're taking action now to secure the future of Exchange Bristol. We're launching a campaign to raise £250,000 by selling community shares on 4 Sept. This will turn Exchange into Bristol's first community-owned live music venue.
Every investor will become a co-owner of Exchange, with the power to shape its future. We'll be able to invest in upgrading the venue and keep its grassroots character as a place where bands, gig-goers and promoters have the freedom to try new things and be creative.
This will be an opportunity for potential investors to find out more about the Share Offer and becoming an owner. Directors will be available after the Q&A for any further questions.
Followed by free entry event featuring the following:
HEXIT – a new quintet featuring an eclectic mix of Bristol musicians from Hi Fiction Science, The Dead Astronaut, Pigbag, Red Snapper and Monk & Canatella. HEXIT take an improvised approach to their strenuous instrumental workouts and filter elements of Kosmiche, Post-Punk, No wave, and Free Jazz based on a foundation of grooves and motifs inspired by Miles Davis, Beefheart, Can and Sun Ra.
John Paul - "No Filter" is the rightful extension of the Sleaford Mods idea in my opinion but don't let that drive you into thinking this is some rehash. John Paul has, with the help of Rat and Steve Underwood, created a horrible account of modern forgotten England from the edge of his stool in the corner of the pub away from all the hard men he once ran with. Its the re-awakening of a mind trying to tune into truth and its brutal. His wordplay and observations are near exceptional and at some points, and like all good music, it nearly devours itself as it tells musical convention to get fucked. The music too, is so fucking crap its beautiful, like the mundane back ground music sent out from head office to all its pubs.
"'No Filter" has for me in some ways pushed the envelope of the Workers Tale, the arrival into mid-life with its disgust for the old shit you did and the attitudes that came with all that. Its solid." - Jason Williamson / Sleaford Mods.
Dogeyed (Solo Set)
Tim Rowing-Parker (WOAHNOWS)
DJ Fat Paul
Line Up
Save Exchange - Community Share Offer Launch
HEXIT
John Paul
Dogeyed (Solo)
Tim Rowing-Parker
DJ Fat Paul