Fat Paul presents:
Spratleys Japs
+ Jon Poole + Zofff + Stephen Evens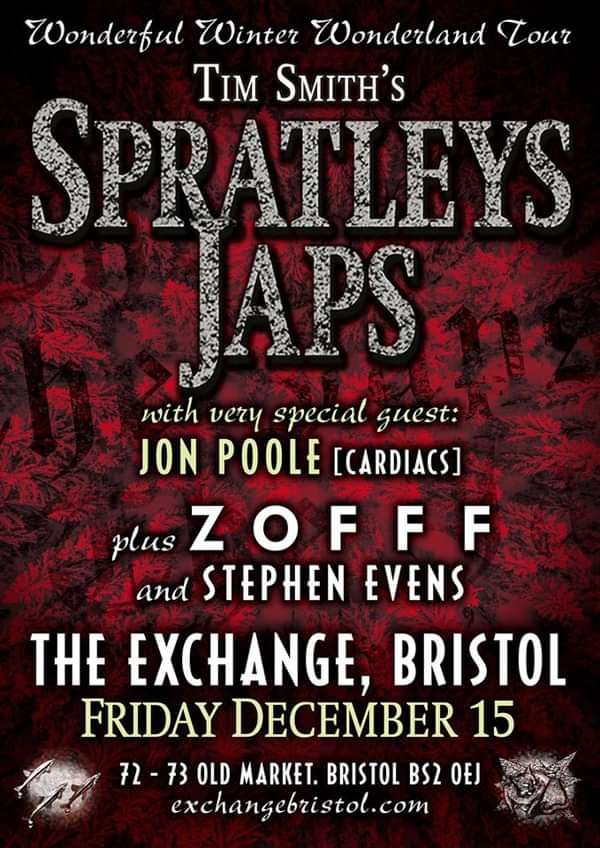 Nominally a band, one which first wormed its way out into the light back in 1999, Spratleys Japs were one of the more enigmatic branches of the Cardiacs family. They released only one album 'Pony' and an EP 'Hazel'. In the decade following the album release, there was occasional talk about taking Spratleys to the stage, none of which came to anything: Tim's near-fatal stroke and heart attack in 2008 finally put paid even to the talk. What was left was the music and very interesting it was too. Half of Cardiacs' songbook had always been weirdly Arcadian, yearning out and away from regimented urban suburbia into a half-imagined clotted English greenwood, full of growing things. Spratleys suggests what might have happened if Cardiacs had escaped there only to find out that it was a swamp, vegetation, trash and identity alike inexorably decaying into fertile sludge. Jo is the only original Spratley left standing. Jo's son Jesse Joe Cutts is backing her on bass guitar and remaining roles are filled by sundry Brighton multi-instrumentalists. Étienne Rodes of Clowwns, his brother Adrien Rodes and Damo Waters drummer for Field Music, British Sea Power and others.
This 2017 pre Xmas, rare outing mini tour follows their first forays into the live arena with two sold out headline shows in their native Brighton at the Green Door store and The Lexington in London in the winter of 2016.
Line Up
Spratleys Japs
Jon Poole
Zofff
Stephen Evens