Colston Hall presents:
The Thing
+ KonstruKt + Calcine Quartet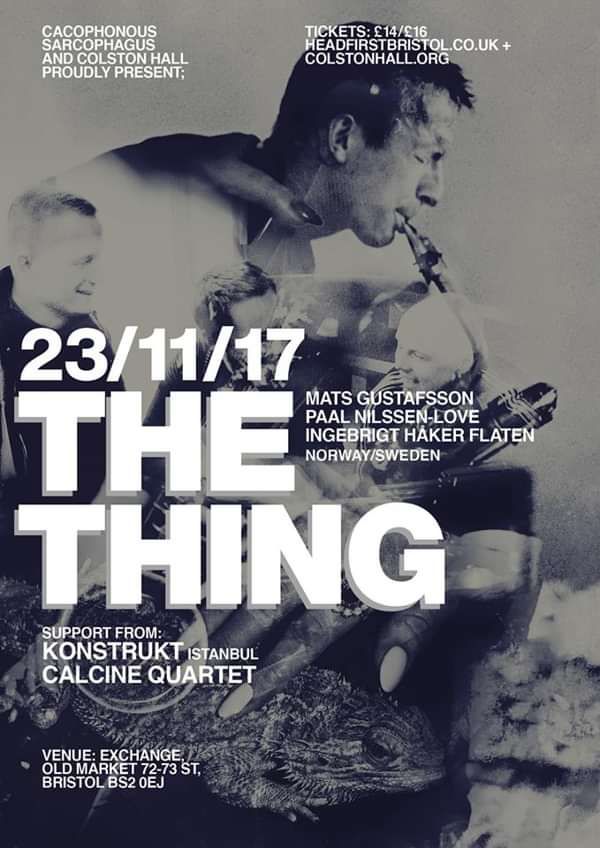 Cacophonous Sarcophagus and Colston Hall proudly present two of Europe's fiercest jazz groups: The Thing and KonstruKt. Local support from free-thinkers Calcine Quartet, at the appropriately intimate Exchange in Old Market.
---
The Thing
"After forming in 1999 as a Don Cherry recording project, Scandinavian garage jazz trio The Thing soon established themselves as one of the most important European jazz groups, playing a variety of compositions, including material by PJ Harvey, Albert Ayler, The White Stripes, Steve Lacy, The Stooges, The Sonics, The Cramps, Lightning Bolt and The Ex. They transformed the music of these artists into a contemporary context, making it their own. As individuals or as a group, they have collaborated with those including: Peter Brötzmann, Sonic Youth, Jim O'Rourke, David Grubbs, Eye, The Ex, Pat Metheny, Arto Lindsay, Steve Reid, Kieran Hebden, Merzbow, Christian Marclay, The Nomads, Guy Picciotto, Neneh Cherry and more, all activities fueling the music of The Thing to become what the group is all about. With dedicated fans in the rock, noise and jazz communities, The Thing continues to take the music to new, uncompromising levels and continues to solidify their important position in the contemporary independent music world."
---
KONSTRUKT
"KONSTRUKT was formed at the beginning of 2008 in Istanbul, Turkey. The major breakthrough for the band was the recording with Peter Brötzmann who was visiting Istanbul for a concert, at the same year. Recently, the band has been getting attention not only back home in Turkey but also within European improvised music circles. They have done recordings with some significant names like Joe McPhee, William Parker, Akira Sakata, Marshall Allen, Evan Parker, Thurston Moore, Keiji Haino, Michael Zerang, Graham Massey, Alfred Harth, Eugene Chadbourne, Alexander Hawkins, Alan Wilkinson, Okay Temiz, Hüseyin Ertunç, toured all around Europe lately with Italian psyche band Squadra Omega and performed at many prestigious international festivals and clubs.
---
Calcine Quartet
"Freely Improvised Sonic Heat. Compositions of spontaneous wail and whisper, crashing and floating through synergetic musical expressions."
Line Up
The Thing
KonstruKt
Calcine Quartet