Go Ape! presents:
Sam Coomes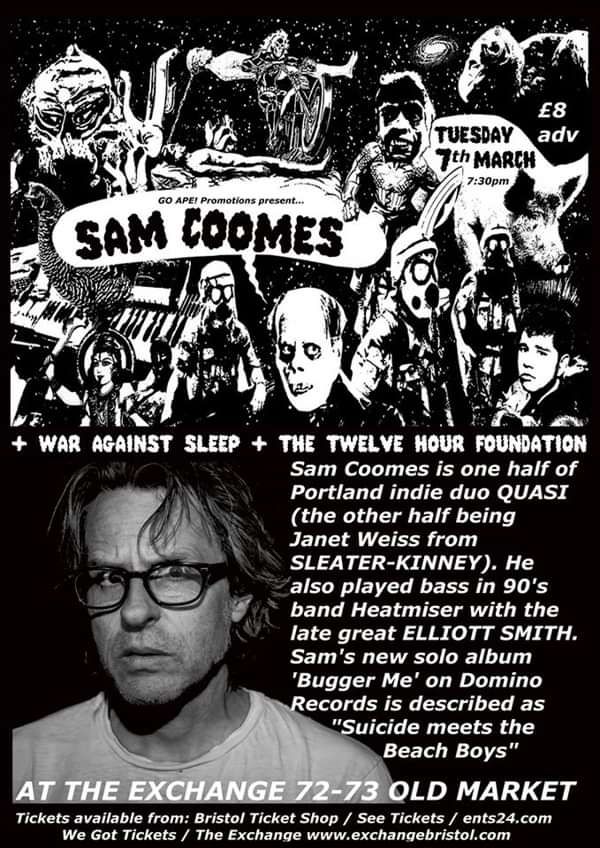 Sam Coomes
https://www.youtube.com/watch?v=N8XkoSz-XG8 Sam is best known as one half of Portland Indie duo QUASI (the other half being Janet Weiss of SLEATER-KINNEY). Sam was also the bass player for 90's Portland grunge band Heatmiser, fronted by the late great ELLIOTT SMITH, along with having guest musician stints for Indie legends Built To Spill and The Go-Betweens. Sam's solo output has been described as "Suicide meets The Beach Boys", fusing classic organ and raw synthesiser sounds with distortion and fuzz, yet still maintaining Sam's knack for writing a catchy pop hook. After eight albums with Quais, he finally released his debut solo album last year, called 'Bugger Me', on Domino Records.
War Against Sleep
War Against Sleep is Bristol residing Duncan Fleming, a genius of a songwriter walking a razor sharp tightrope between deranged humour and classic pop. A purveyor of keyboard-based misery ballads. War Against Sleep's music is as dark as anything Nick Cave or John Cale ever wrote, whilst all the time having a playful pop sensibility. Much like Stephen Jones aka Babybird in the 90s, he's amassed a huge collection of lo-fi four-track recordings, the best of which resulted in two releases for the Fire records label (original home to Pulp). His self-released 2016 album 'Eyes Of The Beast' continues his musical war, delivering songs on sex, love, vampires and demons.
The Twelve Hour Foundation
Bristol-based electronic duo Polly Hulse (analogue synth/rhythms), Jez Butler (analogue synth/concrète sequences) play instrumentals fusing Moog and squelchy noises, influenced by Hot Butter's 'Popcorn' and the BBC Radiophonic Workshop.